"The well-being of each of us depends on everyone's goodwill."
The goal of the Davis Tennis Club is to offer its members a modern, welcoming and professional infrastructure year round from 9 am to 11 pm.
To do that, we ask you to comply with the following rules and regulations:
 I.  Booking courts
Art.1
Bookings can be made no more than 14 days in advance.
One hour of tennis = 55 minutes of play + 5 minutes to sweep the courts.
Art.2
If a booked court is not occupied after 10 minutes, it will put up again for rental (10 school minutes).
Art.3
Court rentals and lessons that are not cancelled at least 24 hours in advance will be charged to the member's account. A fine of 10 euros will be demanded in case of violation.
Art.4
The court rental fee shall be paid before playing.
Art.5
All members must use the court assigned by the club office.
Art.6
Guests must sign the log book in the club office.
Art.7
After five invitations, all players will be asked to become members of Davis Tennis Club.
Art.8
There shall be no reimbursements if play is suspended owing to weather conditions.
Each member shall make their own decision about whether to start playing.
Art.9
Only persons appointed by management shall be authorised to use the schedule.
Art.10
If the club is busy, priority will be given to members who have not yet played.
Art.11
After 5 pm during school holidays, priority will be given to adult members (18 or older).
Art.12
Any players occupying a court without first checking in at the office will be considered in violation of the rules.
Art.13
Management reserves the right to organise tournaments, activities and any other events it deems appropriate.
 2.  General conduct
 Art.1
Management reserves the right to refuse entry to the club.
Art.2
Proper tennis attire is required.
Art.3
Responsible behaviour is required.
Art.4
Keep cell phone use to a minimum (switch to silent mode on court).
Art.5
Any behaviour that could negatively impact the image of the DAVIS TENNIS CLUB as well as its members is prohibited: insults, curse words, racism, alcohol abuse, drunkenness.
General poor behaviour may lead to expulsion from the club.
Art.6
Use the shoe brushes provided when leaving the courts.
Art.7
Consumption of alcohol is formally prohibited outside of the clubhouse.
Art.8
It is prohibited to enter the private areas of the club.
 3.  Special Regulations 
 Art.1
It is formally prohibited to play in shoes that are not suitable for clay courts (mandatory flat surface).
Art.2
Management alone shall determine if the courts are playable.
Art.3
After playing, the players shall be required to sweep the entire surface of the courts. The last players each evening shall use special care when sweeping in order to facilitate night maintenance.
Art.4
Players are asked to dispose of any papers, cans, etc. around the courts. Waste bins are available around each court.
 4.  Regulations for Common Areas
 Art.1
Members are asked to leave the common areas as clean as when they entered them.
Art.2
Locker rooms will be closed 30 minutes after the end of play.
 5.  Car Park Regulations
 Art.1
The speed limit in the car park is 5 km/hour.
Art.2
Responsible, cautious driving is required in the car park, with special attention to the safety of our children.
6.  Bar & Patio (Clubhouse)
 Art.1
The bar and restaurant are intended for the enjoyment of our members and their guests.
Art.2
No outside beverages or food shall be allowed in the clubhouse.
Art.3
Belgian law on public drunkenness shall be enforced within the DAVIS TENNIS CLUB.
Art.4
Bar management reserves the right to close the clubhouse one hour after the end of play.
Art.5
Dogs are prohibited in the clubhouse and on the courts. However, they are welcome in the car park and on the patio. They must be kept on leash under their owner's responsibility.
Management of the Davis Tennis Club, the bar/restaurant and ASBL École du Davisschool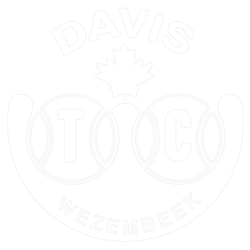 26 rue Frans Landrainstraat
1970 Wezembeek-Oppem